MUXX OIL at Automechanika Frankfurt 2018, 9/11-15,
Hall 9.1 Stand F39
You are cordially invited to visit us at Automechanika Frankfurt, which is the world's leading trade fair for the automotive service industry. In 2018 the biennial trade fair will be celebrating its 25th anniversary with a host of new themes and REIFEN as a co-located show. MUXX OIL is privileged to be a member of the show and we look forward to seeing you there.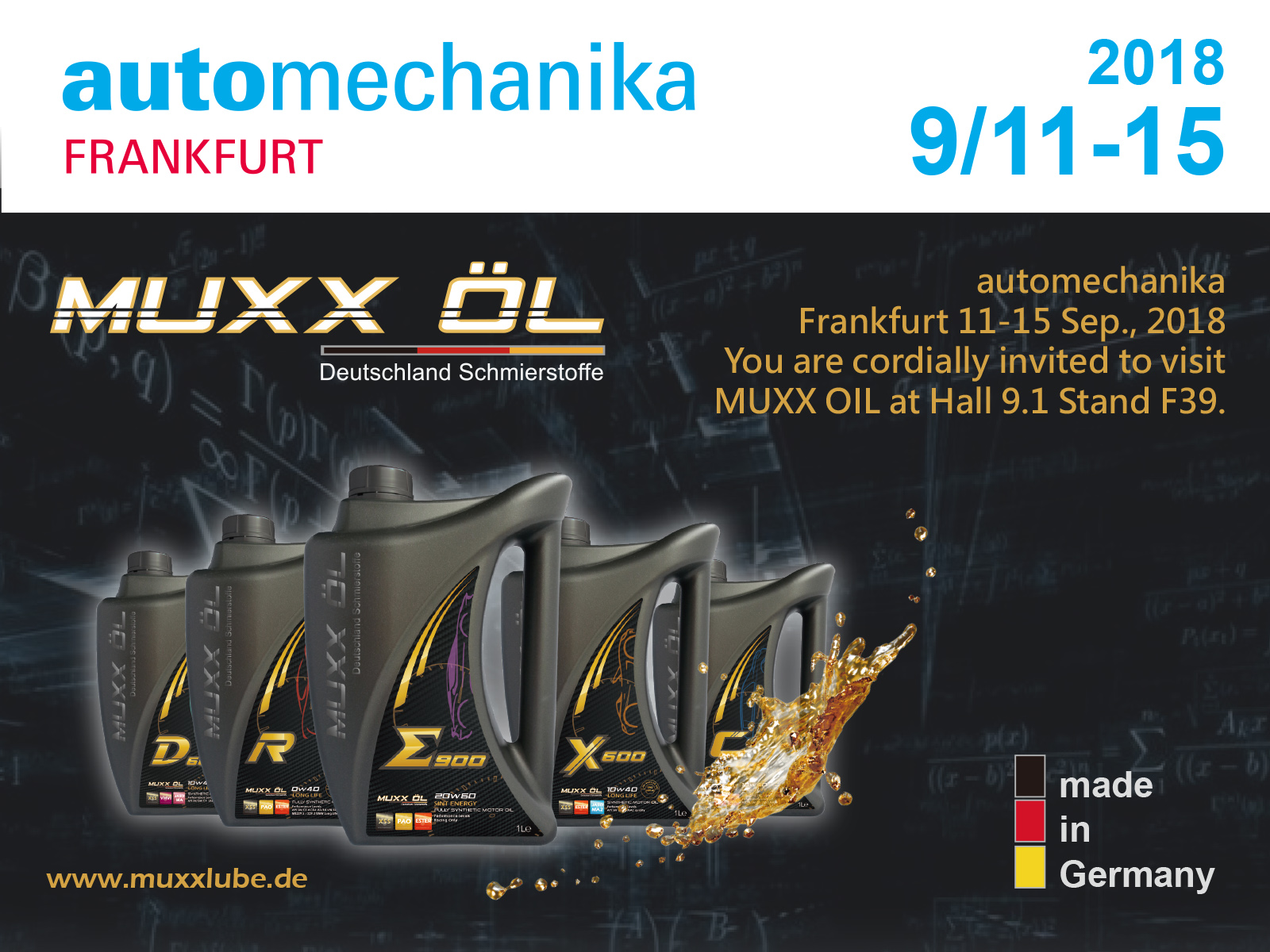 MUXX OIL at Automechanika Shanghai 2017, 11/29-12/02, German Pavilion, Booth:2M96
Automechanika Shanghai 2017 is coming soon. It will be held in National Exhibition and Convention Center in Shanghai from 11/29 to 12/02. This year, MUXX Oil will take part of the exhibition and our booth 2M96 is located at German Pavilion. Welcome to visit us there. See you soon!


MUXX Oil concept shop opened
Waiting for a long time, Taiwan's first MUXX Oil concept store, on June 3, 2017, grand opening. Thanks to Longhua car tire repair center boss's intentions, so that this concept store after several months reorganization was born. Also Thanks media friends, Goodyear Tire and other industry leaders, as well as the support of parliamentarians, so that the opening event was successfully held. Thousands of miles, starting with the next step, MUXX Oil concept store, will lead MUXX Oil into a new milestone.






Automechanika Shanghai 2016
MUXX products have been sold in 12 countries in Asia. In order to deepen the business in China , participated in the Automechanika Shanghai exhibition from 30 November to 3 December 2016, and during the exhibition signed in Hubei and other provinces of the dealer contract. The endless visitors during the exhibition, indicating that MUXX goods and brand in China won the trust and affirmation.



NEW! MUXX 4T 20W50 green pouch bag is about to open in late July to sell
Product description: MUXX MOTO 4T 20W50 modulated by a high-quality mineral oils and advanced additive is mainly used for general locomotive engine, but older vehicles may also be used. Provide excellent wear protection, effectively prevent the high temperature oxidation and viscosity attenuation, prevent piston ring and groove produce coke thereby extending engine life.
MUXX MOTO 4T 20W50 engine parts can be kept clean and to prevent mechanical parts wear, rust and corrosion.